Art
Art & Design: Statement of Intent
At Burhill Primary School, the art and design curriculum is designed to empower pupils so that they become responsible for their own learning through:
enjoying their learning;
having a go and fostering a 'have a go' attitude through experimentation and creativity;
developing their concentration;
co-operating with others;
using their imagination and being creative;
being curious;
evaluating, comparing and improving their work.
At Burhill, art should enable pupils to communicate what they see, feel and think. Art allows pupils to explore their feelings and emotions in a safe, non-judgemental environment. 'Involvement in participatory arts appears to improve wellbeing broadly defined (e.g. on the Warwick-Edinburgh Wellbeing Scale). Specific health outcomes have also been reported, including reduced depression, stress and anxiety and improved immune system functioning.' (N. Hoft, 2018).
Burhill Primary School is delighted to have achieved the Artsmark Silver Award for 2020. We are thrilled to be recognised as a school championing the Arts and are committed to enabling every child to explore as many areas or the Arts as possible. For further information, please click here.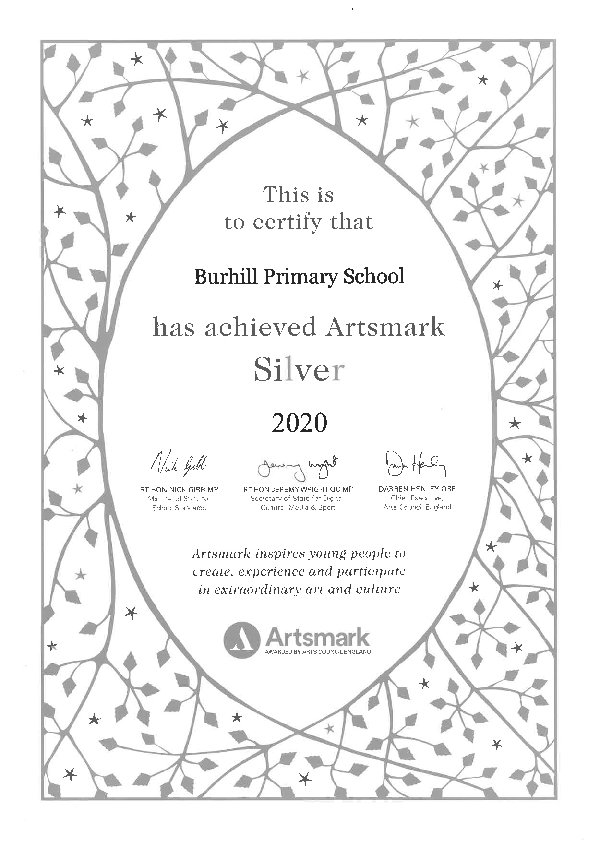 Burhill Virtual Art Exhibition 2021
Click here to view our 2021 virtual art exhibition.